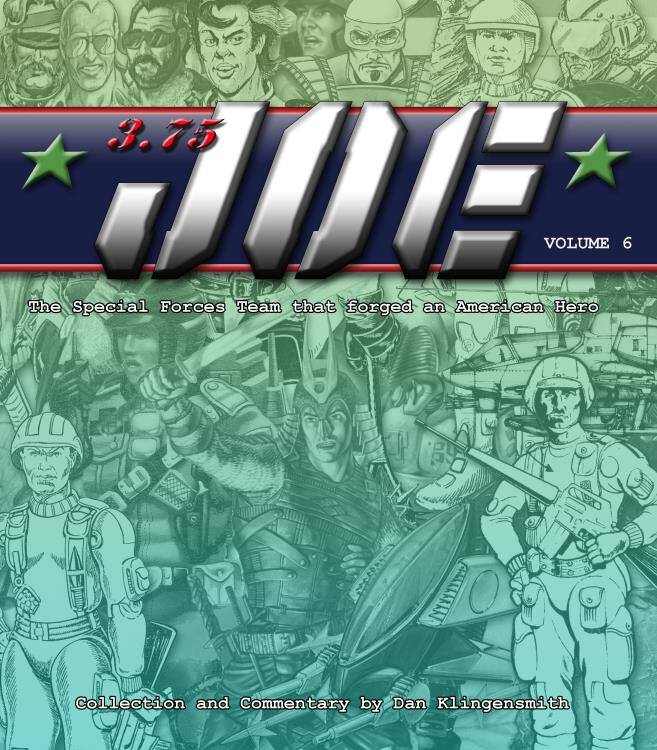 The 6th volume in the book series! This is an 80 page, 9"X10" library of designs and stories ranging from 1982-1994, including some unproduced concepts! This fully colored book is printed on 100# paper in a Soft Perfect Bind format with a visible spine like a graphic novel.
* Final/finished product is subject to change.
Contents:
Grunt
Tripwire
Falcon and Viper Gliders & Grunt and Viper Pilot
Wildbill
Dragonfly
Zartan
Swampskier & Dreadnoks
Buzzer
Ripper
Torch
Thrasher
Mainframe
Falcon
AGP
Nullifier
Budo
Hardball
Downtown
Alley Viper
Subzero & Freefall
Heavy Duty
Eco Warrior Flint
Eco Warrior Cesspool
Ninja Force Dojo
Ninja Force Slice
Anarchy Solider
Unknown figure
G.I. Joe action figures and vehicles have been a part of the fabric of American toy pop culture since 1964. The name itself stands for boy's action figures. It is the brand name that wrote the book on action figure collecting with innovations like: original figure art, file cards, flag points, cross sell catalogs, comic book advertising, T.V. min-series, daily T.V. series, and more!
Under official license from Hasbro, the "Creating G.I. Joe: A Real American Hero" series by historian Dan Klingensmith delves into the depths of what it took to create the G.I. Joe toy brand from 1982-1994! In addition to information obtained from the men and women who worked on the G.I. Joe brand from this period, the series showcases imagery documenting the development of figures, vehicles, and playsets.
This volume starts off with the continuation of the series titled "Creating an American Hero". In this volume, you learn details behind the sculpting, molding, and casting processes for the 3.75" figures. Next, you enter the Gallery of Toy Design which features the conceptual designs and photographs showing the progression and different stages of creating a figure or vehicle. Also included in this section is the inspiration and influences behind the figures and vehicles, insider stories regarding changes that occurred during the design process, alternate names for figures and vehicles, hidden meanings behind some decals, as well as slight modifications that were made from the original dossier to the final file card that was released regarding a character.
9 x 10 inches (22.86cm x 25.40cm)
80 Pages
Full color soft perfectly bound book
Written by historian Dan Klingensmith
Features never-before-seen information and imagery from the G.I. Joe: A Real American Hero toy line